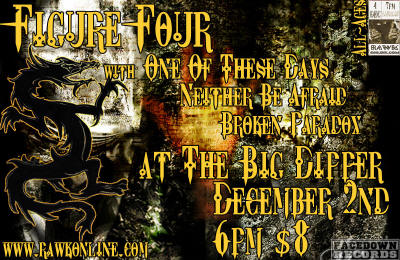 RAWK............. the Inland Northwest
PRESS RELEASE

RELEASE DATE: November 14, 2001
CONTACT FOR INFORMATION:
DALE STROM (509-926-2448 home)

RAWK WEB SITE: www.rawkonline.com
FIGURE FOUR WEB SITE: www.figurefour.net
FACEDOWN RECORDS WEB SITE: www.facedownrecords.com
ONE OF THESE DAYS INFO: oneofthesedays204@hotmail.com
BROKEN PARADOX WEB SITE: www.brokenparadox.com
HARDCORE HEAVEN WEEKEND
PART 2 OF 2
ALL AGES CONCERT AT THE BIG DIPPER
SUNDAY, DECEMBER 2, 2001
FEATURING
FIGURE FOUR
RAWK the Inland Northwest, a nonprofit organization based in Spokane,
Washington, announces that it will host two all-ages concerts on Hardcore
Heaven Weekend. Part Two happens on Sunday, December 2, 2001. On this
night, one of the hardest bands on the North American continent, Manitoba's
rock solid FIGURE FOUR, will make its first trip into Spokane. This Big
Dipper all-ages show will start an hour earlier than normal, at 6:00 PM
(doors at 5:15 PM) and will be priced at $8. It should end around 9:30 PM,
making all moms in Spokane very happy on a school night. Moms are welcome at
the show (at all RAWK shows actually), but they will need to like to hear
some really HEAVY rock and roll. It could be scary.
FIGURE FOUR formed in 1997, when one of the original members was 12 years
old. Only one of the original members, Andrew Neufeld, is still with the
band, but most members have been part of it for around three years. One
exception is the newest member, Melinda Dong (Metal Mel) who broke the gender
barrier when she joined the band earlier this year. The band's web site
refers to her as "the coolest, hardest girl you'll ever meet." The band has
released two full length albums on California's Facedown Records, "No Weapon
Formed Against Us" in 1999 and "When It's All Said and Done" in 2001. These
albums are HARD. The band may be reached through Mike Peters (204-228-6229).
Touring with Figure Four is another Manitoba band (we think),
ONE OF THESE DAYS.
We know next to nothing about this band, and their record label's
(United Edge Records) web site is under construction, as is the band's site.
What we expect is hard, hard, hard.
The local hardcore band NEITHER BE AFRAID is playing second on this show.
Spokesman Tyler Warnock (230-5558) says "We haven't moved to Portland yet, so
come see us before we do." Tyler says they will play the hardest material
they have, which he feels will fit this show like a glove. They are excited
to play with Figure Four. RAWK is pleased to have them back.
Opening this show is the Colville band BROKEN PARADOX, which has gone through
a few transitions this year. It's been a challenging year for this
gothic/metal band, including the resignation of one of the band's two female
members and the loss of band leader KC Musmecci's (509-684-4342) guitar at
their last RAWK show (he replaced it with a better one - but the loss was
disheartening). Also, some members went through a transition in their home
church. This band has a tremendous amount of positive spirit, and have
accepted the challenges as part of life. They will open the evening at the
early start time of 6 PM.