RAWK ....... the Inland Northwest
PRESS RELEASE
RELEASE DATE: January 2, 2002
CONTACT FOR INFORMATION:
DALE STROM (509-926-2448 home)
MYK CRAWFORD (509-359-7242)
DAVE CRUME (509-999-1550)
KOAL MULVIHILL (509-981-4545)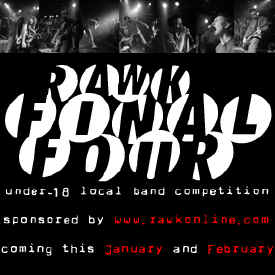 RAWK WEB SITE: www.rawkonline.com

FOUR SHOW "YOUNGER BAND" COMPETITION
AT THE BIG DIPPER
THE "RAWK FINAL FOUR"
RAWK the Inland Northwest, a nonprofit corporation located in Spokane,
Washington, announces that it has organized a competition between 15 younger
bands in the Spokane/Coeur d'Alene area. These 15 bands will meet in groups
of 5 bands in three preliminary rounds, to be held on January 12, January 26,
and February 2. People's choice balloting will result in the winner of each
round, along with a "wild card" fourth band, meeting in the RAWK Final Four
on Saturday, February 23. All shows will be all-ages, be held at the Big
Dipper at Second and Washington, start at 7 PM and be priced at $11 at the
door. Tickets are available in advance from the bands, and at selected other
locations. Advance tickets are priced at $10. The bands will retain a
portion of the ticket proceeds.
The lineup for the band competition is as follows, with contact information
for each band included:
DATE BAND NAME (S) PHONE(S)
Sat. Jan. 12
1-7:00 PM For the Time Being James St. Clair 359-2923
2-7:45 PM Psyben Trip Jesse Tranfo 208-667-6929
3-8:30 PM Desperation Takes the Wheel Jordan West 465-2140
4-9:15 PM Soapbox Jason Johansson Martin
5-10:00 PM STAL Travis Singleton 276-1442
Sat. Jan. 26
1-7:00 PM Victim of Circumstance Dan or Kenny Absalonson 466-2229
2-7:45 PM 4 Less Than Perfect Blair Holbrook 926-3988 768-5170
3-8:30 PM Two Copper Nate or Danny Lopez 928-5173 475-7174
4-9:15 PM Entangled Joel or Jon Howard 325-2550
5-10:00 PM Toby Bryan Morgan Will & Martin 465-8388
448-8256 230-3617
Sat. Feb. 2
1-7:00 PM Municipal Source Aaron 838-0731
2-7:45 PM World Exempt Brent Langelier Josh Lincoln
468-9537 216-9403 466-2527
3-8:30 PM Non-Perishable Nick Treadwell 928-0648
4-9:15 PM Wadman Taylor Livingston 448-4888
5-10:00 PM The Nexus Travis Kolassa 468-1642 993-0944

Sat. Feb. 23
The Four Finalists
tba


RAWK will pay the winner of each of the three preliminary rounds $100.
Corporate donations will provide prizes to be awarded to each of the Final
Four bands. The Grand Prize and Second Place Prize will be provided by
College Road Recording, and consist of the same packages offered to the
Bobfest 2001 winners. These are significant prizes. The first place band
will be offered an agreement for the production and manufacturing of a
full-length CD. This will be at no charge to the band, but it must agree to
apply the proceeds of the sale of the first 100 CDs toward repaying the costs
of production and manufacturing. The second place band will have the
opportunity to develop a 3 song demo at College Road Recording at no cost to
the band.
We believe that one of the best outcomes of this competition will be
significant opportunities for young bands to gain name recognition. Also,
they will have a chance to perform in front of a good-sized crowd, which some
of the bands may not previously have done. It will be good training for what
they will face if they choose to compete in Bobfest in June.
RAWK the Inland Northwest is excited about this new venture, and its
potential role in building a larger all-ages music scene in the Spokane area.