Terry Grob wrote much of the prose in the June to July, 91 calendar.
July 6th was a Grobal Production. Anyone know who played? Manito?
Terry brought Everclear to The Dipper in 94. Here's that bill.
AMETHYST Heavy Metal Spokane Valley Boys with a message.
ANIMOLOGY Brings out the beast in all of us with organic primal rock rythm.
AS-IS Pretty good (understatement)- Do'in that hard rock thing touring from Coeur cralene.
BLACK HAPPY Original punk/funk/rock band. 8 piece band horn section and 2 drum sets.
Single on Yo Menzer Wax. Big crowds. Recent NAMA showcase appearance.
CHAMELEON KINGS From screeming trees country. Excellent band with a potpouri of diverse musical influences.
CHAMPAGNE ALLEY Hardest workin rock band in town.
D. C. BEGGARS Babes can do punk too. Excellent Seattle Band.

DIRT FISHERMEN Boss Bose Band - or there abouts
DHARMA BUMS One of the best bands in the worldl Frontier Record and Recording artists on the verge of making it big.
EARS Sober hardworking individuals who find thier only joy in entertaining you and clean living. A band, that in a few decades, may actually command union scale.
EPITAPH So big they have a 55 room studio. Surrounded by a bevey of bodatious babes. Delivering the last word in hard rock.
FUMES Popular Spokane Punk band. LP recieved strong reviews in Seattle press. EP on empty records, soon to be released. I I song LP recently recorded at Seattle's Reciprocal with Jack Endino.
GALLERY 4 nice Yakima boys, once opened for the Screaming Trees (they're on A & A Records). Gailery's debut LP out soon.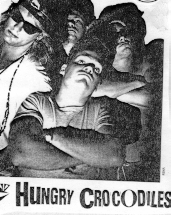 HUNGRY CROCODILES Seattle's top funksters. R&R with funk and rap edge.
LAKELAND CHRISTINE Rhythm & Blues singer-songwriter guitarist spent many years with J. J. Cale and Merle Haggard, recently released 'Fireworks.' A national act.
LAPLANTE DOUG Established professional hosts Wednesday acoustic variety show. Gentler dipper nights great for seduction.
LIKE RAIN Name awarded. Highly regarded Seattle rockers with a violin. C.D. out, it's on the Dipper box. Bartender will play a cut for you - no charge.
MAD MAD MOOD 3 piece
YOB accoustic beautifully babed band.
MARqUE THIEVES Hold on to your Marques and party.

MOTHERLOAD Amazingly tight and original 3 piece bass driven band with their own unique sound. Building increasingly large fan-base. Working on new recording project; have already played Northwest. Single on Seattle's eMpTy Records.
MYSTIC LIZARD SLITHERING ROCK makes our skin crawl and our ears have orgasums.
NICE WORLD Mostly original guitar heavy Spokane based band with LP out on Yo Mentzer Wax. Spokane's most unappreciated band. Has played with many highly regarded bands. Can often be found rough-housing at Chiefs games. Trees and honey influenced.
PLANETARY REFUGEES Reggae influenced local talented
musicians host a Rasta celebration each Tuesday this month and a
special Friday night party May 3rd. Feel free to bring your
percussions for the open-circle segment.
PSYCHIC COFFEE Give up caffene. For your next high try Pschic Coffee. Girls like them.
RANCOR Illustrated hard rock originals with anti-drug message.
SCHERVO Concord, Ca. punk touring through. Lets give them a warm Spokane welcome. Babes welcome.
SOUL HAMMER Mole Hammer... Gnome Nabbber... Love Batterer...Glove Lleker... Mud Shooter... no SOUL HAMMER -- The Peaceful Valley/Seattle sound, pioneers of the passive grunge.
S.T.E. (Something to Eat) Young Talented Funky 3 piece. Big crowd
pleasers. Good following.
SWERVING BIRDS Mt. Vernon band has been paying their dues for the last two years in the Seattle scene.
Unique vocals and lyrics, featuring strong guitar sound.
TAINTED BLACK An aggressive all original hard rocking band with a full length album to be released at the Dipper June 7th.
THUMP New and tight 3 piece funksters from out West.
TOO SLIM AND THE TAILDRAGGERS Just won the a nominattion for the best new Northwest Rhythm & Blues album 'Rock am Dead' Don't underestimate this band. CD on club box
TREE PEOPLE One of the Northwest's best lndie-labor bands on tour againl Rave reviews as alwaysi.
VIVA JAZZ Straight ahead jazz in the style of Horace Silver with music by Marsalis, Sonny Rollins, Oscar Peterson, Bird etc.
WATERSIGN Accomplished Jazz fusion with All Fall Down's Joe Brash. Tight exciting originals and excellent wind instruments.
WIDOWS PARTY The iniands top all original metal band.
WILLARD TADI THE F-HOLESI The Seattle sound, manl This new Seattle band features former members of TAD and F-HOLE and has already played a lot of Seattle shows.
YOB Spokane's answer to Soundgarden, always give a great performance. Big cult following.
YOUNG BLUESMEN 4 Piece Spokane young dukes doin' traditional blues with an original approach. Paul Liniger, Brian Kumbalek, Scott Donnelly, and Klayton Giese invite you to get down.