Flexx
The Lady Poet
Earon Davis Jr.
La'Salle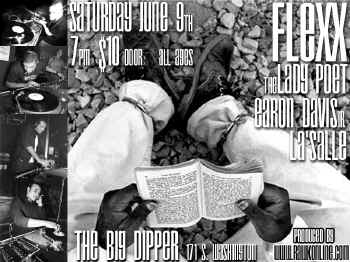 at The Big Dipper
2nd & 171 S. Washington
Spokane, WA
$10 ALL AGES!
show starts at 7:00pm

RAWK
the Inland Northwest
PRESS RELEASE
RELEASE DATE: May 29, 2001
CONTACT FOR INFORMATION:
MIKE BARROW (509-495-7967 work until 2:30 PM)
DALE STROM (509-926-2448 home)
LIZ PALMER. Flexx Publicist (801-581-2247)
MIG RECORDS (801-567-0881)
RAWK WEB SITE: www.rawkonline.com
FLEXX WEB SITE: http://home.talkcity.com/LibrettoLn/flexxrap

ALL-AGES RAP/HIP-HOP SHOW SCHEDULED FOR THE BIG DIPPER ON SATURDAY, JUNE 9,
2001 FEATURING FLEXX
RAWK the Inland Northwest, a nonprofit organization based in Spokane,
Washington, announces that it will host an all-ages concert, on Saturday,
June 9, 2001, at the Big Dipper, Second and Washington, in downtown Spokane.
This show is the first all "rap/hip-hop" show sponsored by RAWK, and features
Stellar Award Nominee Flexx, along with three local rap/hip-hop artists.
Doors open at 6:30 PM, with the show starting at 7:00 PM, and ending around
10:30 PM. Tickets are $10, and available only at the door.
The headliner for this show is Salt Lake City native FLEXX, who will bring
his outstanding band and East-coast rap style back to Spokane. Flexx drew a
large crowd to the Ridpath Hotel in his last Spokane appearance a few years
ago. Since then he has sold over 250,000 copies of his second project "So
Real," been nominated in 1999 for a Gospel Music Stellar Award in the Best
New Artist category, and released his current project "Hiding Place."
Flexx composes, performs and produces music. He plays the keyboard, piano,
and drums. He has performed at the Delta Center during Utah Jazz games, as
he has had a personal relationship with various members of the Jazz team over
the past few years. His family owns and operates a hair salon and a music
store in Salt Lake City. Mike Barrow, a Spokane DJ who produces the Sunday
evening Heart and Soul Gospel show on Power 101.9, says that "Flexx brings an
excellent band and a solid East-coast style of rap."
Also appearing on this show is The LadyPoet, Donna Lee Evans, who moved from
California to Cheney with her family, and uses her music "to reach into the
heart of society and rebuild broken down walls." From smooth R&B cuts to a
hardcore hiphop sound, her songs "take you on a journey, a revolutionary step
into your God-given destiny." Donna works at the Black Student Union at EWU,
and can be reached at 359-6635 or 235-6101.
Local rapper Earon Davis Jr. will brighten the stage in his first appearance
at the Big Dipper. Earon has performed at many local venues and events,
including at Unity in the Community and the Race Relations Summit. He is
currently attending Moody Northwest. Earon fills his music with lyrics that
present a clear Gospel message. He can be reached at 244-3237.
Leading off the show is 17 year old La'Salle (Nick La'Salle Pierce), who
attends Medical Lake High School. La'Salle is a native of Memphis, and is
related to the Gospel performers Dawkins and Dawkins. He has resided in
Spokane for three years. He has performed in the five part harmony group
Brothers and One. In February of this year, La'Salle released his first
radio single "The Second Coming" which is currently in heavy rotation on Mike
Barrow's Heart and Soul show. La'Salle can reached after school at 244-0376.