RAWK
The Inland Northwest
PRESS RELEASE
RELEASE DATE: May 12, 2001
CONTACT FOR INFORMATION:
MIKE CRAWFORD (509-448-4910 home, 509-991-1335 cell)
DAVE CRUME (509-448-6904 home, 509-999-1550 cell)
DALE STROM (509-926-2448 home)
RAWK WEB SITE: www.rawkonline.com
TOOTH AND NAIL RECORDS: www.toothandnail.com
ALL-AGES SHOW SCHEDULED FOR THE BIG DIPPER ON THURSDAY,
MAY 24, 2001 FEATURING THE DINGEES ON THE PENALTY BOX TOUR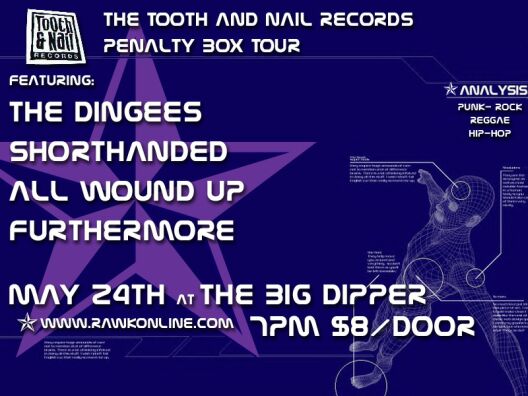 RAWK the Inland Northwest, a nonprofit organization based in Spokane,
Washington, announces that it will sponsor THE TOOTH AND NAIL PENALTY BOX
TOUR, an all-ages concert, on Thursday, May 24, 2001, at the Big Dipper,
Second and Washington, in downtown Spokane. Featuring four bands from
Seattle's Tooth and Nail Records (www.toothandnail.com). Doors open at 6:30
PM, with the show starting at 7:00 PM, and ending around 10:30 PM. Tickets
are $8, and available only at the door. A limited supply of sampler CDs has
been provided by Tooth and Nail for the first people in the door. Please
come out and support this tour. This is the first time out for at least two
of them and it will make them real happy if you do.
Leading off the night off the night will be the 3 piece hip-hop flavored
group FURTHERMORE (www.further-more.com), touring in support of their 1999
release "Fluorescent Jellyfish" - with a new album to come out later this
summer. With a sound similar to the Beastie Boys, Furthermore's sure to make
you move.
ALL WOUND UP (www.allwoundupmusic.com) which just took the Dipper stage by
storm a month ago will be tearing it up back in Spokane after some rough
times on the road since they played last. After leaving Spokane on April 28,
All Wound Up's engine blew up and they replaced it and it blew up again (in
Montana) and they missed all their shows on the way to the beginning of this
tour. They say they will be looking forward to coming back to Spokane after
the great response they received last month. Hailing from the Vashon Island
area on the west side of Washington State, these emo-punkers will be sure to
make your heart ache and get your blood pumping with their upbeat songs of
young love, heartbreak, and fun times. After just releasing their major
debut CD, "HERO", ALL WOUND UP will rock Spokane out.
Portland punk rockers, SHORTHANDED (www.shorthandedpunks.com), will be
playing Spokane again, but after a long span since their last show, which was
about a year ago at the Howard Street Underground. They've been busy since
that last show. They've released a new CD, "Forever Yours," and they've
acquired a new bass player. Bringing their positive pop punk to the Dipper,
they will have you singing along before the end of their set.
And finally, THE DINGEES, another band to have taken the Dipper stage by
storm this spring (playing with Ghoti Hook) will be back for some more, this
time in the headline position. With a sound taken from many musical
influences, such as punk, rock, ska, and reggae, THE DINGEES
(www.dingees.com) always gets the crowd grooving and jumping to their sound.
Front man, Pegleg, usually a show within himself, is a man to watch with some
great on-stage antics. Saxophone player Dave Chevalier was an original
member of The Orange County Supertones.