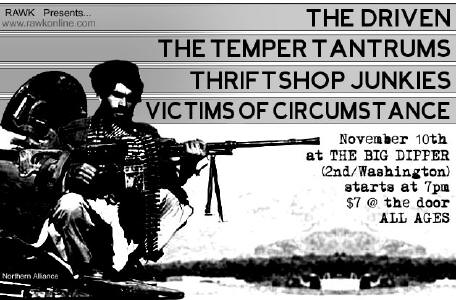 The Driven - The Temper Tantrums - Thriftshop Junkies - Victims of Circumstance
The last RAWK show for a 3 week period happens this Saturday night, November
10 at the Big Dipper. This show includes a performance by The Temper
Tantrums, an all-girl punk band from Bellingham. They were featured in an
article and photo in the new issue of The Local Planet, which hit the streets
today (Thursday). There is a link to the article from our www.rawkonline.com
site (under "news").
I saw The Temper Tantrums and Thriftshop Junkies at Tomfest this summer.
They were both crowd pleasers by bringing a ton of fun, so I know you'll get
into this show, which is priced at $7.
Local bands The Driven (grunge-oriented music with excellent lead vocals) and
Victim of Circumstance (emo music with other new twists) are back at The Big
Dipper after playing RAWK shows many months ago. Both bands have gained
experience and believe they will surprise you this Saturday. The Driven
certainly impressed me at Bobfest in Riverfront Park (I was one of the
judges). Victim of Circumstance has modified their name (used to be "victims
...") and claims to have matured greatly. I thought they were quite good a
year ago, so I am looking forward to seeing their progression.
If you can't come Saturday, you can catch The Temper Tantrums playing a
couple of numbers at 11 AM Sunday November 11 at Pines Baptist Church (Pines
and 8th in the Valley). Punkers break out!!!
This will be the last RAWK show for almost 3 weeks, so be sure to catch it.
There is going to be a show (not a RAWK show) sponsored by World Exempt on
Nov. 23 at the Big Dipper.
Hope to see you all Saturday night. Come and say "Hi" if we have never
talked. I'm one of the old guys who loves punk and hardcore, and the one who
pushes signing up on the "little green tabs" for the news list. This list
(now 400 strong) really helps get the word out, so be sure to forward it to
your friends. Tell them to send me an e-mail if they want to join the list.