John Henry Spickard
from
Our Baby's History
Part 1
Born Perma, Montana
to
Mr. Pearl A. & Mrs. Clara A. Spickard
Monday, January 18th 1915, 8pm
Midwife - Mrs. L.W. Burgess
weight at birth 5 lbs.
1 mo 8 lb.
2 mo. 10 lb.
3 mo. 12 lbs.
6 mo. 16 lbs.
Presents:
3 blankets and a blue and white wool jacket from Aunt Rose
Shawl from grandma Bolche
2 bibs from Aunt Anna
Pink & white wool jacket from Mrs. Weil
Fancy dress from Mrs. Anthony
This book from Cora Anthony
Pair white rompers from Mrs. Kastner
Bair blue and white bootees from Mrs. Farmer
Bonnet from Mrs. Peters. - white lacy embrodery
Stockings and shoes from Mrs. Weishaar
(white silk, black patent leather with white quilted satin tops, fur trimed)
Kimono from Cousin Anna
2 dresses & 2 shirts from Grandma Spickard
Bootiees from Miss Clara Arck - blue & white wool - knee high
First know picture of John on horseback. Nellie's the name.
Pearl's homestead in Sanders County Montana is the place.

Cristening Day:
Saturday March 20th, 1915

by Father Donahoe of Plains, Montana
Camas Prairie Cental School House.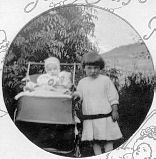 Pictured here with Antonia Koppes
| | |
| --- | --- |
| Jonnie with | Marie Cline |
| | |
| --- | --- |
| Johnnie on Gype | Bluie, Maud & Johnny |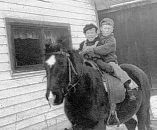 Nellie, brother Lawrence
James Spickard and Johnnie